Pregnancy Chiropractic Care at Inspire Chiropractic & Wellness Studio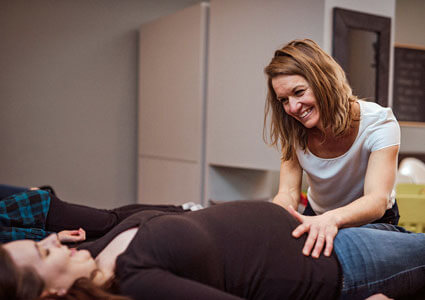 Here at Inspire Chiropractic & Wellness Studio, we are passionate about helping expectant women throughout their pregnancies. Dr. Rob and Dr. Lisa provide prenatal chiropractic adjustments to give you the care you need as you grow your family. This specific approach to chiropractic care is a natural way to keep women comfortable while pregnant.
How We Cater to Moms-to-Be
We love supporting expecting mothers through their pregnancy.
We understand that your comfort levels can affect the overall experience of your pregnancy.
We offer gentle, specific techniques.
We have a unique approach to help support your goals.
While pregnant, the female body undergoes a lot of change in a relatively short amount of time. As your baby grows your pelvic balance will be thrown off. When that occurs, misalignment of the pelvis and hips can take place. This shift in your center of gravity results in the following:

Low back pain
Hip pain
Sciatica
Pelvic pain and discomfort
Symphysis Pubis Dysfunction (SPD)
Round ligament pain
With chiropractic care, we are able to help your body better accommodate such rapid change. Each of your adjustments will help keep you properly aligned as well as moving comfortably from month one to month nine.
We do not care for pregnant patients the same way we would care for a non-pregnant patient. As you are uniquely housing a growing baby, it is crucial that we follow a particular protocol when it comes to performing each of your chiropractic adjustments.
Dr. Rob and Dr. Lisa use effective soft techniques in prenatal chiropractic care. Later on, we use soft tissue work to address round ligament pain and contractors of the hip flexors which often become stretched as your pregnancy progresses.
Like standard chiropractic care, prenatal patients will be cared for on an individual basis. Your care plan will depend on your unique condition as well as the results of your health history and examination. While regular adjustments are typically recommended, the frequency of care differs from person to person.
Contact Us Today
No matter how far along you are, we are here to help you have a healthy, happy pregnancy. From the first month to the last, Inspire Chiropractic & Wellness Studio is here for you.
Set up a consultation to find out how pregnancy chiropractic care Kamloops could help you.
CONTACT US »

Pregnancy Chiropractor Kamloops BC | (778) 471-5888